"Paws For The Cause"
Virtual Walkathon
October 1 to December 22, 2018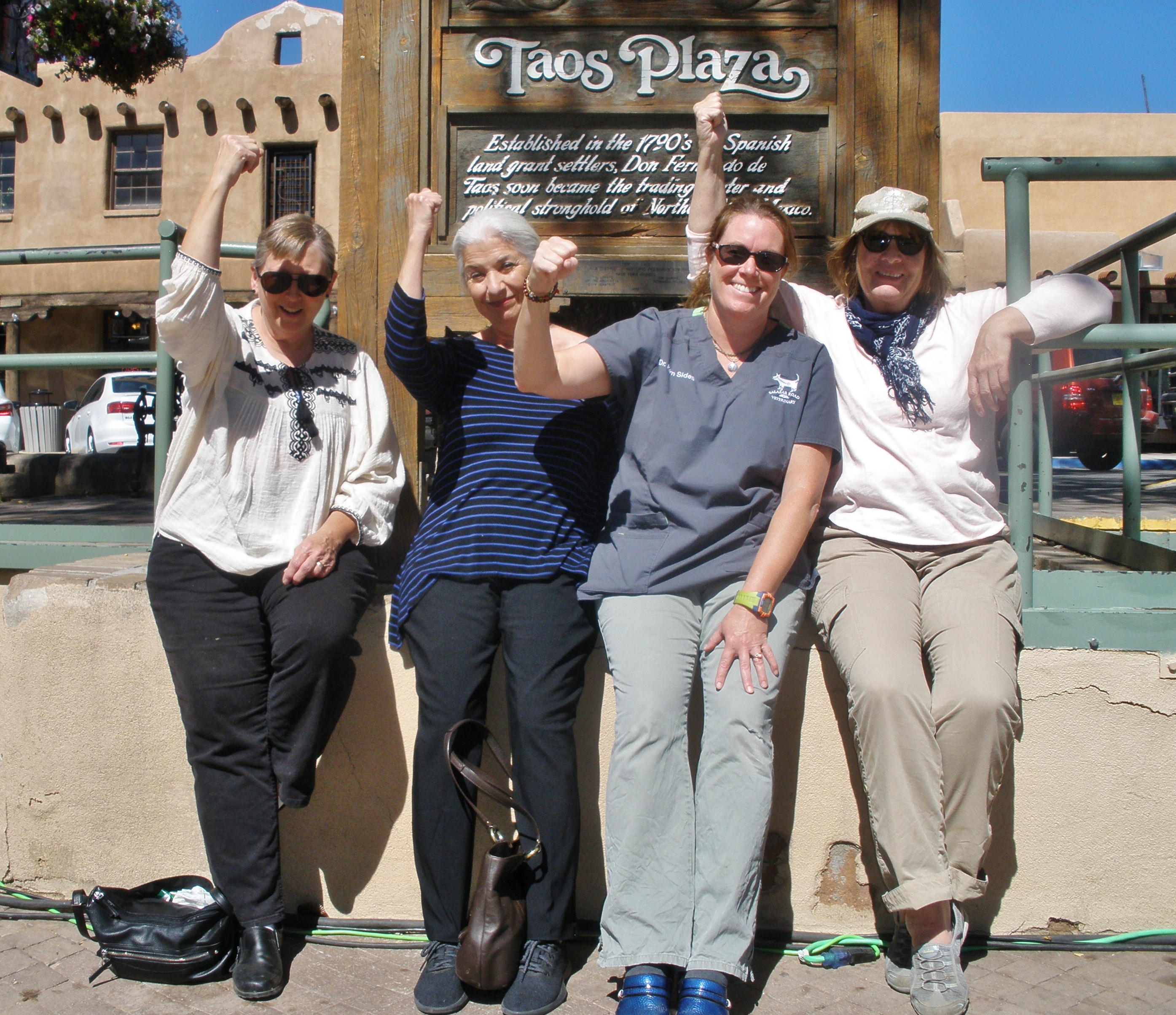 "A new walkathon era begins today!"

L -R: Leanne Mitchell, Susan Ammann, Dr. Kim Sides, Sue Kelly

The 14'th "Paws For The Cause" walkathon was one for the record books! This year featured the most radical change in walkathon history! Instead of the usual 27 mile event, three walkers teamed up to journey 10000 miles from the Taos Plaza to Tierra del Fuego in Argentina – virtually - with each $1 donation counting as one mile. See the maps below for route details.

The virtual walkers, Susan Ammann from the Ammann Gallery, Sue Kelly from Acorn Graphics and veterinarian Dr. Kim Sides from the Salazar Road Veterinary Clinic, all completed their full journeys, raising over $30,000 for Taos Feral Feline Friends.

Leanne Mitchell, President of Taos Feral Feline Friends, commented, "These three Taos businesswomen really came through for us! You ladies may be just virtual walkers, but you are real heroes to me, standing tall for the homeless cats of Taos. Thank you to everyone who donated. And we truly appreciate all the businesses (see below) who sponsored the event. Frankly, the virtual walk was a new, untried and untested concept, but the unparalleled generosity of the Taos community made our annual fundraiser a complete success! All funds raised will directly and immediately benefit homeless cats at the TFFF shelter and through our free spay/neuter programs."

Please Support Our Business Partners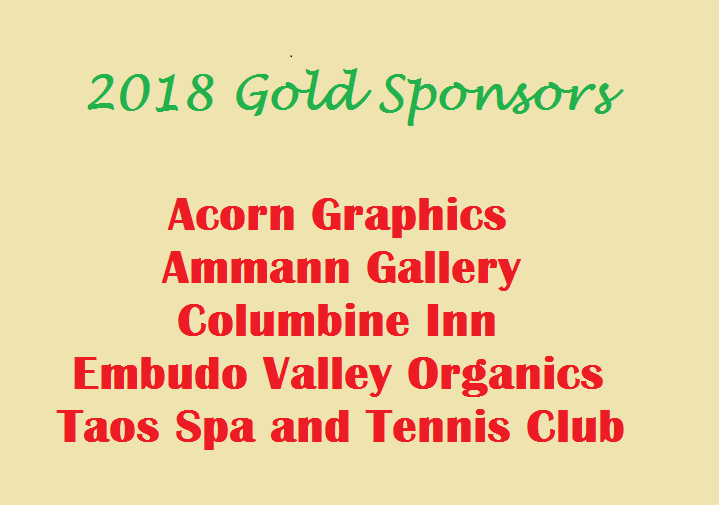 The Starting Map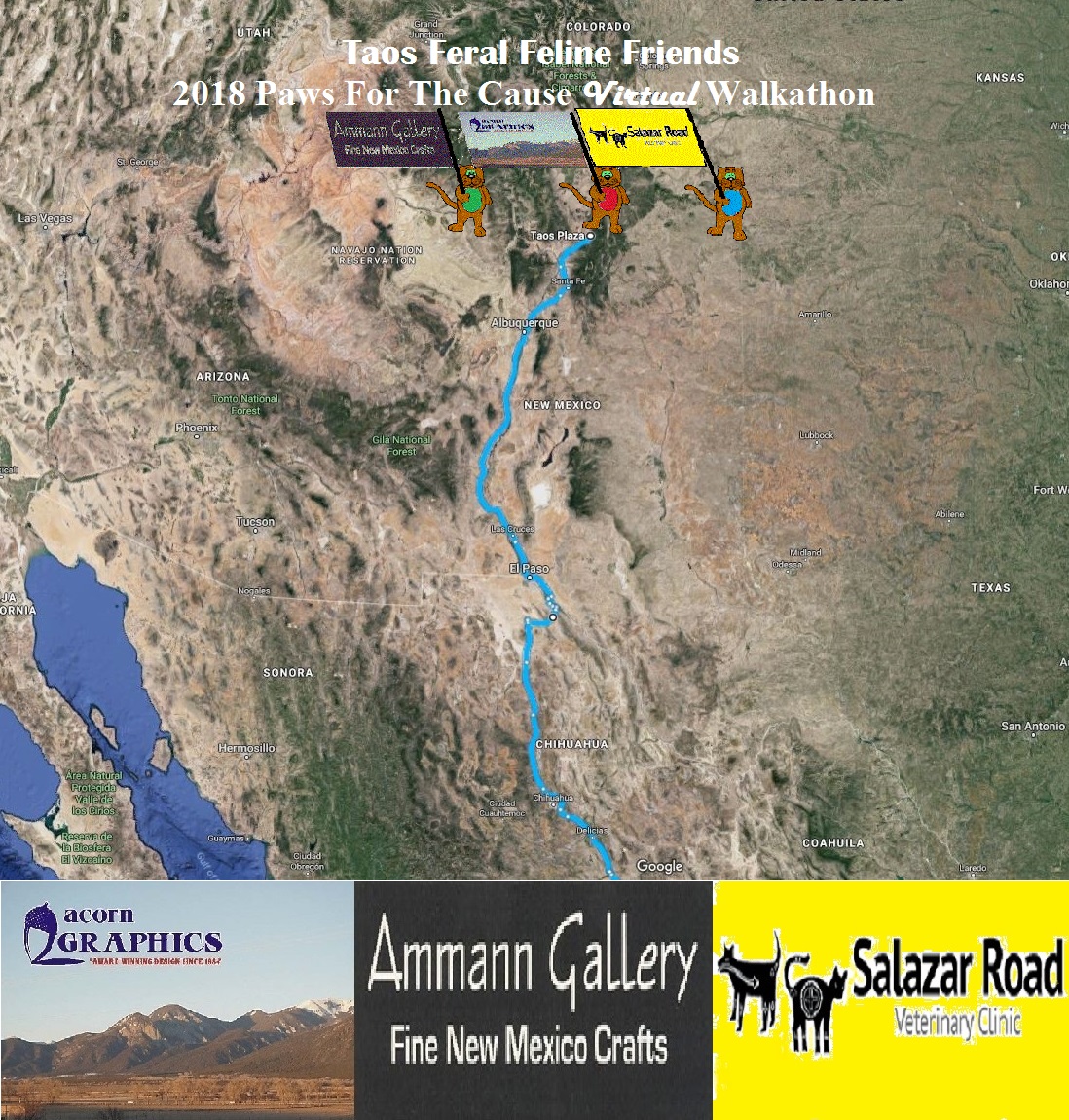 The Virtual Walkathon Route

From: Taos Plaza, NM From: Panama City, Panama
To: Panama City, Panama To: Ushuaia (Tierra del Fuego), Arg.
Miles: 3,613 Miles: 6,387
Total Walkathon Route: 10,000 Miles
Paws For The Cause Photo Gallery
Discussing strategy with Leanne Mitchell at the start of the 2018 Virtual Walkathon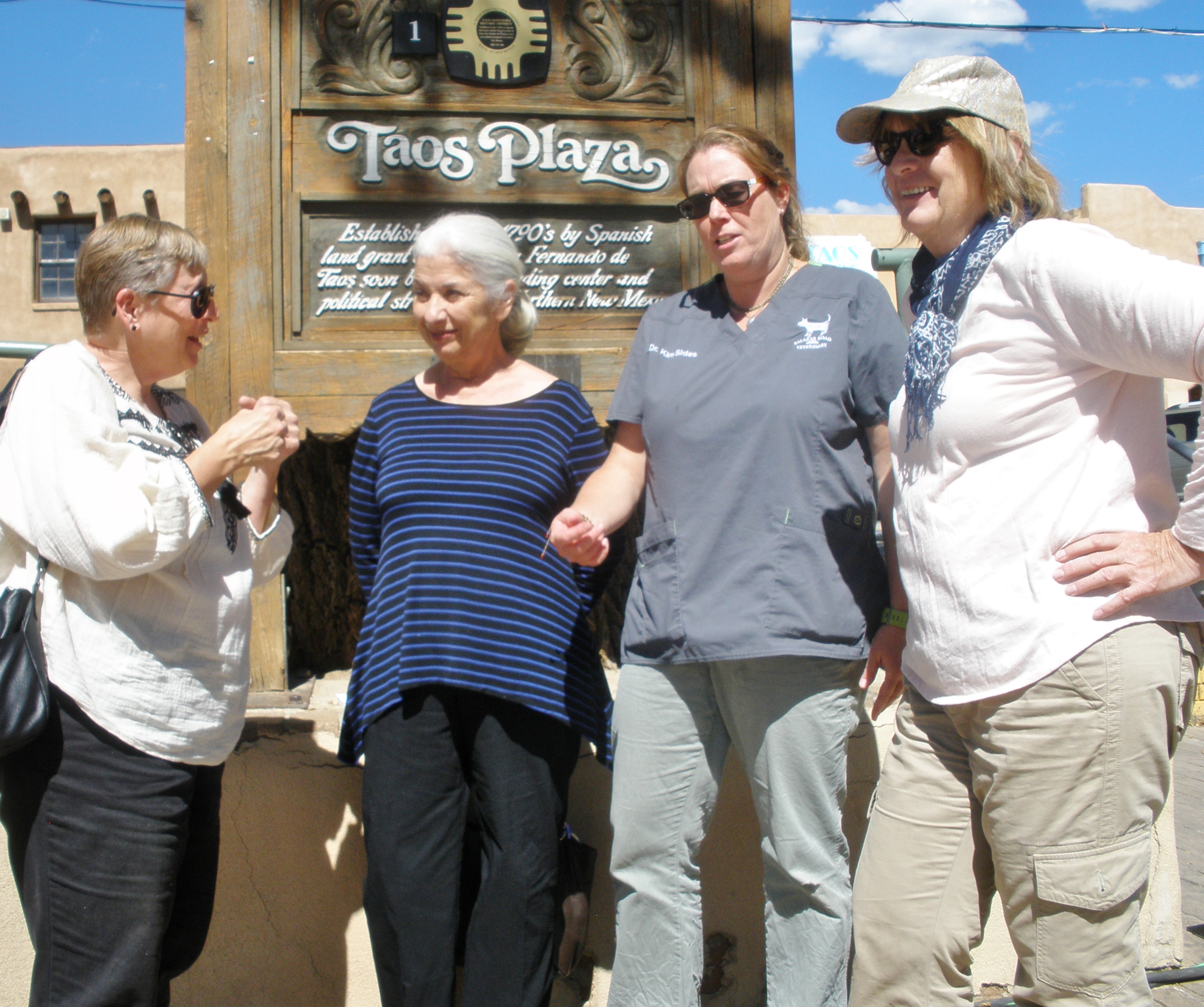 L -R: Leanne Mitchell, Susan Ammann, Dr. Kim Sides, Sue Kelly
Mish Rosete* (left) and Ben Mitchell**

*2007 - 2017 Walker **2005 - 2017 Walker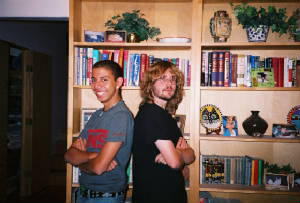 These two young men have trekked hundreds of miles to raise money for TFFF!
Mish graduated from Taos High in 2009. He was Taos High School's Student Body President, School Board student representative, and State Debate Champion. Mish graduated from the University of New Mexico in 2014 and from UNM's Law School in May 2017.
Ben was the Taos High School Class of 2007 Valedictorian and State Debate Champion. In 2010, Ben graduated summa cum laude with a degree in mathematics from UC-Berkeley and received his Master's degree from the University of Oregon in 2013. Ben is currently Professor of Mathematics at El Camino College in Redondo Beach, CA.
Obviously, these are two incredible young men!

Dr. Kim Sides from the Salazar Road Veterinary Clinic
2012 - 2018 Walker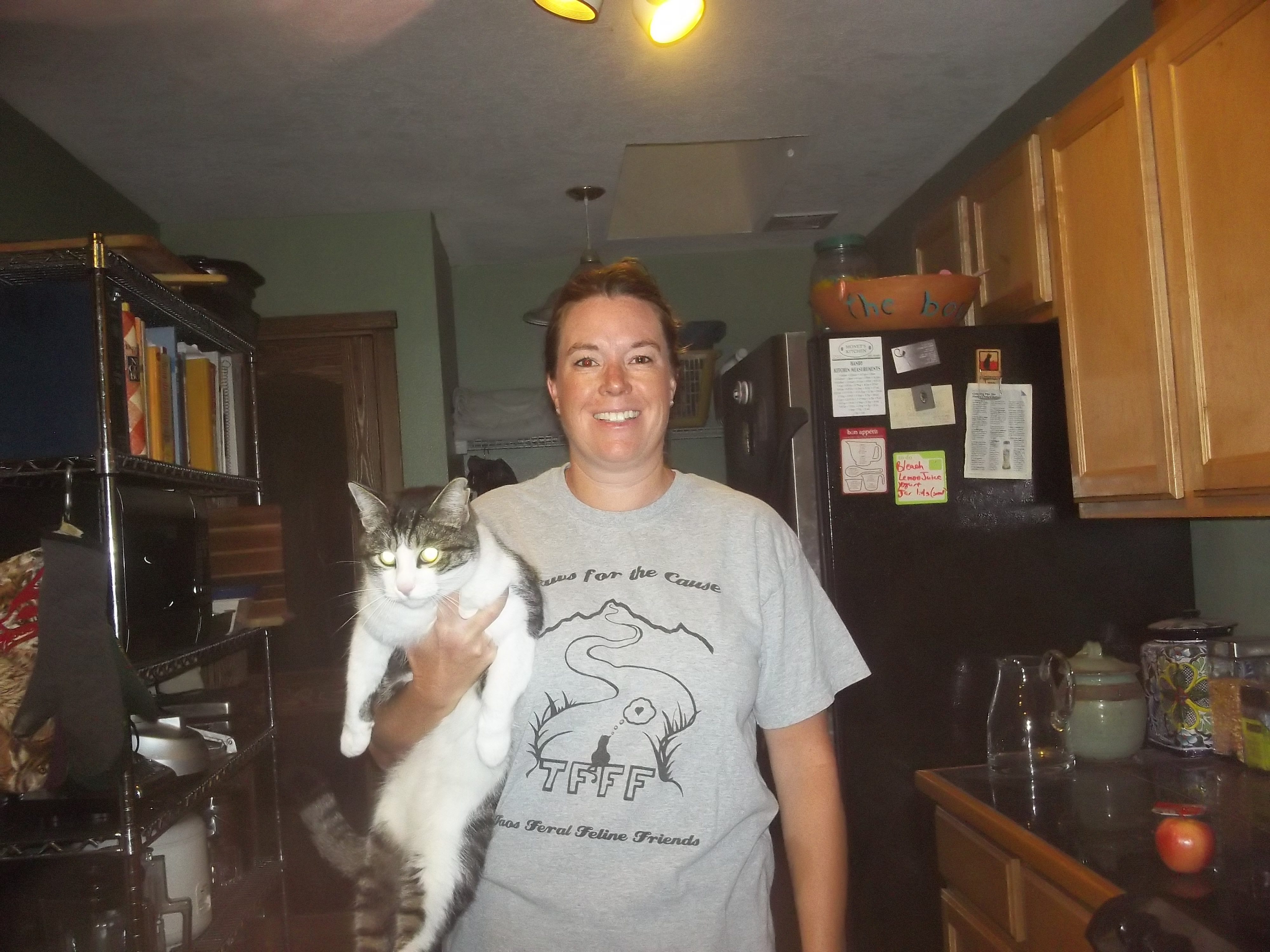 Dr. Kim Sides is owner of Salazar Road Veterinary Clinic in Taos. With a staff of four full time veterinarians, Dr. Sides manages the largest veterinary practice in Taos County. From the very start, Dr. Sides' dedication and generosity has been instrumental to making TFFF a success!

Marc Kaplan
2008 -2011 Walker
Marc Kaplan is a veteran and the former Marketing Director for Taos Mountain Casino.
After four long walks, Marc retired in 2012 and is currently resting his sore feet in Phoenix, AZ.
From 2009: Our three intrepid walkers, high up in the Taos Ski Valley, begin their journey.
Left to Right: Ben Mitchell, Marc Kaplan, Mish Rosete
From 2011: The walkers enjoy a well-deserved snack courtesy of the Taos Cow
in Arroyo Seco.
YUM! YUM!