Welcome to Taos Feral Feline Friends!
(A 501-(c)(3) animal welfare charity)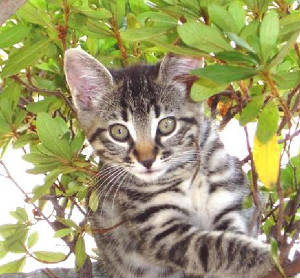 March is Adopt-a-Feral-Cat month!
Are you looking for a fabulous, furry feline companion?
How about a good mouser for your barn or garage?
Do you want to keep your feral cat population healthy, happy, and not increasing?
We can help!

See Our Adoptable Pets at petfinder.com
Thinking about Adopting? Check out "A Guide To Adopting A Stray Cat" !

News and Views Latest Updates>
(3/21/2014) Press Release: 2013 Charitable Accomplishments
(2/27/2014) Five Great Reasons To Adopt a Feral Cat
(11/28/2013) TFFF Successfully Completes PetSmart Charities® Grant
(9/2/2013) TFFF Announces the 2013 Paws For The Cause Walkathon
(3/21/2013) 2012 Charitable Accomplishments (Also discussed: an 84% decline in cat
euthanasia in Taos)
(2/21/2013) Where Are All The Cats Coming From? (A Taos News article featuring
three years of shelter intake data by Zip Code)
(1/24/2013) 2013 is the Year of the Fixed Feline!
(12/13/2012) Taos Feral Feline Friends Receives $18,950 Grant from PetSmart
Charities®
(9/20/2012) The Taos News: Spay/Neuter Taos - A Success Story For Cats
(8/10/2012) TFFF Announces the 2012 Paws For The Cause Walkathon
(5/3/2012) Encouraging Signs in Cat Overpopulation
The Taos News "My Turn" by Leanne Mitchell
(2/3/2012) Press Release: Taos Feral Feline Friends Reports Record Numbers
of Cats Helped in 2011
(5/12/2011) The Taos News "My Turn" by Leanne Mitchell
(4/11/2011) The Taos News: Taos Feral Feline Friends tackles town's wild cats
(4/2/2011) Press Release: 2010 Charitable Accomplishments
Taos Feral Feline Friends
PO Box 1926
Ranchos de Taos, NM 87557

Phone: (575) 737-9208

Email: catmomoftaos@hotmail.com
Federal EIN: 77-0635095