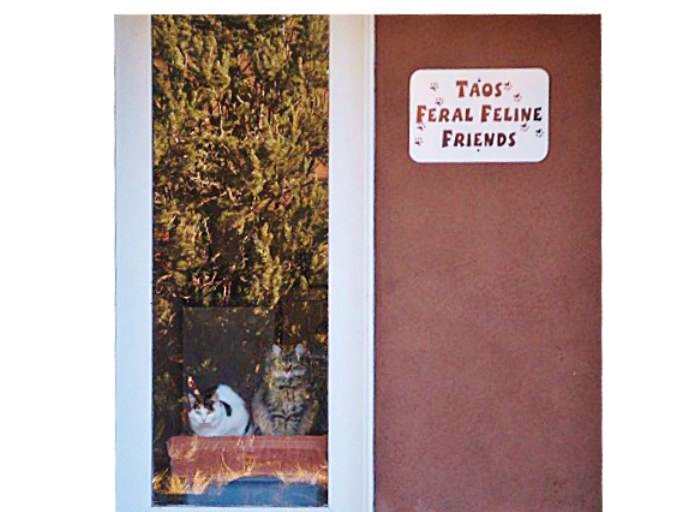 Our History
Taos Feral Feline Friends (TFFF) is a 501c-3 charitable association promoting animal welfare throughout Northern New Mexico.
TFFF was founded in June 2004 by Leanne Mitchell. Leanne has over 25 years experience working with animal welfare organizations in Illinois and New Mexico.
TFFF is unique: it is a 100% volunteer organization and operates the only facility in Northern New Mexico that rescues, shelters, and relocates feral cats. In 2005, it initiated the area's only Trap, Neuter, and Return program to assist outdoor cat caregivers by providing free spay/neuter surgeries, vet care, and food for feral cats.
From inception, we've helped over 4700 cats, funded 3300 spay/neuter surgeries and arranged over 1900 adoptions.


Our Mission
1. Prevent the inhumane treatment of stray and feral cats

2. Stop unnecessary euthanasia of stray and feral cats
3. Reduce the population of stray and feral cats
Finding Us
Our main office is located about seven miles south of Taos, NM along NM Highway 68 (the main route between Taos and Santa Fe). Our veterinary clinic is located on Salazar Road in Taos, NM. Please call us for detailed directions.

Visiting hours are by appointment. Closed Sundays and Holidays.
Contacting Us
By Mail:
TFFF / PO Box 1926 / Ranchos De Taos, NM 87557
By Phone:
575 - 758 - 3519


By E-mail:
catmomoftaos@hotmail.com